That Was The Week That Was
Everyone experiences professional development through their own prism. Mine, principally, is as a 'producer' rather than 'consumer', as I am PD leader for my school. This week, much like any other, I led professional studies for our teacher-trainees and an induction session for our NQTs. But this week I was allowed also to be a participant, sitting back as my wonderful colleagues took the PD reins.
MONDAY…was the calm before the storm. We had our customary meeting in the morning, the Chace Lead Teachers and I, planning for the days ahead. We have staff training on DIRT coming up, we are getting exercised by growth mindset, and there is the nagging business of Lesson Study.
TUESDAY…was the real 'Start the Week'. This year our team of volunteer PD leaders (our Development Coordinators) have been delivering Mixed Development Time – 5 sessions across the year, centred on the theme of Differentiation. This week we were focusing on differentiating for students working below (old) Level 3. The DCs led 8 Teacher Learning Communities, mixed by faculty, sharing best practice and remembering that the best differentiation is through knowing our students well.
WEDNESDAY…the Midweek slot was occupied by our 'Pedagogy Marketplace'. The peerless Darren Glyde, recently appointed a Chace Lead Teacher assumed control of this professional learning day back in October, and the day bore the stamp of his meticulous preparation. The original plan was to provide a showcase for the disparate action research projects that several colleagues have been working into MAs over the past few years. Being their tutor (as an associate for Middlesex) I have long been frustrated by the fact that, whereas they have learned tonnes, we have not managed to learn from them. A marketplace was hardly the most original idea, but it at least offered all classroom staff the opportunity to opt into two or three sessions, which might coincide with their appraisal objectives.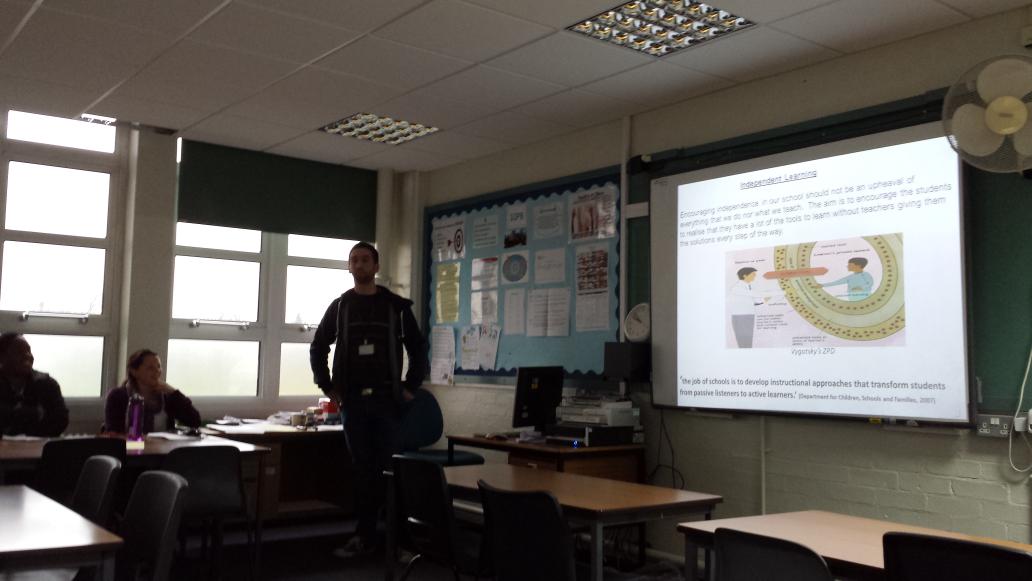 @HughHalford reminding us of our ZPD
There was a choice of about a dozen. @BTerziyski promised to save us time marking, by designing tasks more smartly. We had sessions on literacy, underachieving boys, behaviour management, independent learning, using drama, reading strategies, and more. Each session leader was asked to present their theory, what their own research and practice and taught them about what works. We are still collating the feedback but we already know it was a great success. Our next challenge is to ensure there is a next step.
THURSDAY…is 'Bookend' day: begins with professional studies for ITTs, ends with induction for NQTs. Setting Targets was the title for the teacher-trainees. I cannot be alone as a Professional Coordinating Mentor in London, tearing my hair out as the various universities we work with (London Met, Middlesex, IOE and Kings) insist on not talking to each other about the start and finish dates of their school experience placements. So, we have trainees who have begun SE2, while others are yet to complete SE1. So this session was designed as a bridge between the two. We discussed first how to set an achievable target; they they wrote each on a post-it note, then plotted them on an X-Y axis to determine where the quick wins could be, and where they could expect to put in the extra effort.
My NQTs usually don't get any sessions for free: they expect, for any input from me or an expert colleague, to be sent away for the next 3-4 weeks to enquire further before posting a blog on their reflections. At the moment, they are engaged in What is Appreciative Inquiry while also finding ways of introducing the Teaching and Learning Cycle (a device for extending students' writing) into their classrooms. So today's session was deliberately lighter-touch. Inspired by
This Sporting Life
…my session, This Teaching Life, asks the question, Is this a job, a career, a profession, a calling, or a life?
FRIDAY…should be Stop the Week. For me, it's my day at the London Centre for Leadership in Learning at UCL Institute of Education. I have been putting courses together for school leaders and, when numbers allow, delivering them at the IOE and around London. This week, the pressure was off so I set my mind to a half day course I am leading in March, Performance Management: Making it work for you http://www.ioe.ac.uk/newsEvents/107926.html No previews, I'm afraid.
WEEKEND… without end! Those MAs that my colleagues spent their year on had to be marked some time. What did I read? An impact analysis of mentoring for underachieving boys. A look at the correlation (if not the causal link) between early morning football and academic achievement. The difference between an open-door Art club policy and one which is tailored for individual needs. The effect of green pen marking in year 8 science. The impact of Chris Watkins' active reading cycle on a year 8 reading class.
Sitting here, I realise that – but for putting the bins out – I haven't stepped foot outdoors since this weekend. I could have done, but I've decided to reflect on my #ChacePD week instead. That WAS The Week That Was.