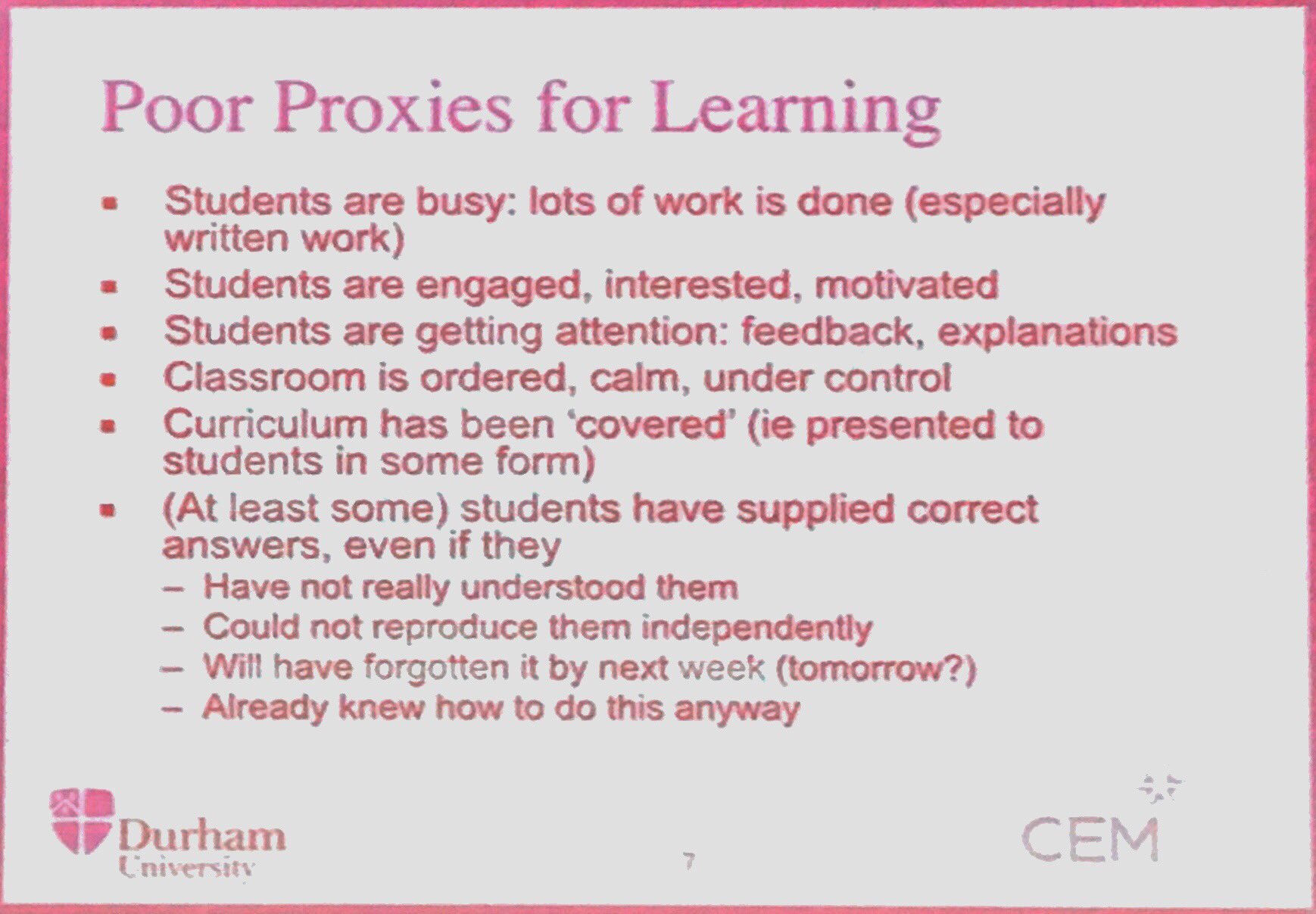 So here goes. The other day Laura McInerney  at ResearchEd Blackpool posted on Twitter this much-repeated list of 'Poor Proxies for Learning', asking How many of these are you guilty of thinking will equal learning?
I replied
I have disliked this list for some time. A teacher who achieves these in their class IS doing a fine job. And, if not individually, in combination these will be good proxies for learning. Leaders should not be criticised for wanting to see them.
You can see some of the replies and thoughts on https://platform.twitter.com/widgets.js">proxies for learning here. Of course, I understand Rob Coe's point that busy or engaged or motivated students, or ordered classrooms, or ones where the course is covered are not the same thing as learning, but I worry about the reactions of some teachers and school leaders seeing this list.
It sneers at teachers who strive to achieve exactly the things which are on this list.
It implies that these conditions are not worth striving for.
It may lead some teachers and school leaders to downgrade the achievement of these conditions.
It encourages the despairing conclusion that we cannot ever know that learning has taken place until public exams results are in – and that only those matter.
I know I have substituted the word 'conditions' for 'proxies'. I know that this means I am guilty of a category error, where I mistake the difference between a prerequisite for a thing and the thing itself. But consider the position of the teacher teaching a class, or a school leader watching the lesson. When I was teaching (I remember it well – it was not long ago), I would have been delighted if I ever managed to cover the full content of a curriculum, when that curriculum kept changing and growing. If I ever motivated all of my students so that they were interested in what I was saying and engaged in what I wanted them to do, I would have chalked that up as a stunning success. There were very many times when my classroom was not ordered or calm, so I was definitely happy when it was. More to the point, I know that my students did learn better when they were engaged in busy, well-ordered lessons. It took me several hard years to achieve lessons like those on a consistent basis. And, when it became my role to help other teachers, it took much energy on my part (and much more on theirs) to achieve something like those conditions in their lessons.
School leaders should strive for those conditions in their schools. I mean, imagine if they did not. I know that it is not the intention of those who produce and reproduce the proxies list to suggest that they are (all) undesirable, but I do fear that that is how they are interpreted.
Those who publish research on well-visited platforms have a duty to consider the consequences of misinterpretation, and to at least try not to cause it. Some recent EEF reports have been headlined in a way that I feel is irresponsible. For example, what is a school leader to make of this?
New EEF trial results: 'light-touch' approaches to research unlikely to impact pupil outcomes
Will they see the 'light touch' and think, erm… that's exactly what I do? For most schools, to be engaged in research and to seek to be informed by research often is a light-touch exercise. They trawl through their twitter feed late at night, look for some promising blogs to read, maybe look to make something more of the connections they have with a local university. Surely to goodness, these are activities to be encouraged. It is not encouraging to learn from an EEF sub-editor that it is unlikely to impact pupil outcomes. Worse still, it might lead some leaders to conclude that that journal club they have running is a waste of time. They should have read the report, of course, and added their own emphasis (as I have here):
While the evaluators from the University of Bristol found no evidence that the programme led to improvements in reading outcomes for ten and eleven year olds, the findings suggests that there may be a relationship between how engaged teachers are with research, and the attainment of their pupils. There was also some evidence that being in a Research Learning Community increased teachers' engagement with research.
And perhaps they ought also to have read EEF Senior Researcher Jonathan Sharples' blog . In it, he concludes that the light-touch research approaches described in the report were indeed worthwhile, and he references the 2016 EPPI review.
Importantly, in addition to reviewing different mechanisms to mobilise evidence, they also looked at the behavioural requirements that were necessary for those various approaches to have an impact. This included having:

opportunities to engage with the interventions
the motivations to do so, and
the skills and capabilities to understand and use the outputs.
Dig down far enough into the EEF website and there is everything there the teacher and leader needs to be well-informed. Bravo. However, how many teachers and leaders crack their spade on the hard crust of the top line?
Headlines are poor proxies for research.